Robin Cornwell
Featured Artist through June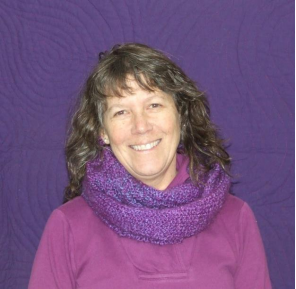 My artwork is a visual reaction to what I see around me, when walking some local trails and working in my gardens. The inspiration for my art images comes from the forms, symmetry and patterns I see in nature. Block printing, stenciling and screen printing are my favorite methods of image making. Certain leaves can also be used for printing, collections are always in my hands in the fall! My dyed fabrics are my canvas, the rich, bright hues melding and contrasting with the bold images of my prints.
An art quilt project may start as multiple prints on cloth and then slowly grow to a finished work. Or it may be built up of multiple layers of prints, carefully organized to give a feeling of depth. I then use my quilting stitches to outline and build texture to the whole piece.
I have recently retired from teaching middle school, and I am thrilled to have this extra time for more walks, more inspiration and trying out new processes and materials!
---