Sarah W. Eastman
Featured Artist through June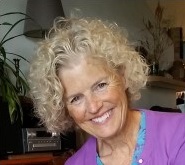 From the earliest she can remember, Eastman has loved all things visual. Her first art teacher taught her to observe the subject carefully before putting pencil to paper. These lessons served her well as a future artist and art educator. In college, she earned a BA in art history while taking fine arts classes whenever she could. In 1976, Eastman began full time secondary art education which became her career for the next 39 years. Retired in 2015, she now has more time to devote to her two art passions - pastel and watercolor paintings.
Being outdoors, there is visual excitement every day, constantly changing beauty in the shapes, colors, textures and light that nature provides. Eastman considers the contemplation of nature a type of gift that touches the mind and heart. Landscapes and flora are her daily inspirations, given how the light affects them. She hopes to communicate her love of the beauty in nature to the viewer.
Alternating between pastels and watercolors is a great discipline. The two mediums are so different - pastel is applied directly from the chunk of color in your hand to paper. It is dry and textural and you work from dark to light. It is totally direct and spontaneous. In watercolor, you have to plan ahead - how much water, which brush, which technique and you work from light to dark. It is mostly unforgiving and yet so beautifully fluid and unlike any other medium.
It is Eastman's hope that her paintings of nature can bring the viewer as much joy as she has felt in their creation. More of Eastman's work can be found at Main Street Art Gallery in North Conway Village.
Sarahweastman32@gmail.com
---