Librarian's Corner
Late March 2023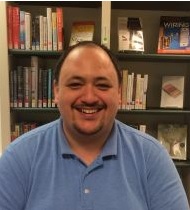 Spring hasn't quite sprung just yet, but my mind's been in summer mode for a few weeks now. Planning for Summer Reading is already well underway, and between bouts of summer preparations, I'm still trying to keep an eye on the near future, and what might be going on between now and then.
The Matinée Café will be continuing this month, with a showing of Voodoo Macbeth on March 25th. If you're not able to make it to the Matinée Café, the Library owns all of the movies we show, so you can check them out anytime. If you're looking for other great movies to watch, you also might try Kanopy, a streaming service available for free to anyone with a library card. You can stream up to 10 films a month, including documentaries, major motion pictures, independent films, selections from the Criterion Collection and the Great Courses, and more!
Well-Versed, our monthly reading of poetry in the public domain, is still going strong as well. Our most recent presentation is "Menagerie on the March," and can be streamed on-demand from our website, or you can hear it on Spotify. If you're interested in exploring other public domain offerings, from poetry and prose to audiobooks, movies, and even music scores, check out the Public Domain Resources page of the website.
Both Cribbage and Yarn Arts meet on Wednesdays from 2-4pm at the Library. It's a great time to get together with other folks to share what you're working on, or relax with some cards and pegs. If these aren't the activities for you, consider checking something out from our Library of Things. There are options for outdoor activities, home & garden (when the snow is cleared away, at least!), and more. If you want to try your own content creation activities, we have equipment that can help with that. We've got STEM activities for kids to learn skills like coding. Take a look through what we have—you might be surprised what you find. We've also got puzzles and board games for all ages available for checkout.
If you need help learning how to access any of our online content, feel free to ask! We'll be happy to walk you through the process. And we're always glad to see you—don't forget that!
As for those summer things I mentioned at the beginning? You'll have to wait a little longer before those are ready for the spotlight. But don't worry; I think we have a few things to keep you occupied until they're ready.
---
---